Aunt Trish picking our cherry tree...one of the great things about the July 4th weekend is our being able to count on the Cherries!!! The tree isn't even a third picked. I am nervous to pick with my broken arm.
Thought you'd like to see Mike :)
Cousin Cherie and friend tag along Lindsey Hines:) The pool is HEAVEN I SAY...HEAVEN!!!!
The whole Harris gang has been here since Thursday and its been a fun weekend. They went to Stadium of Fire--Carrie Underwood performed. Today is the twins 52nd birthday. Lots of pool time...the weather has been in the high 90's :) Our yard is truly a heaven on earth.
Michael celebrated on tour. Josh celebrated on a boat in the middle of a lake with awesome sauce fireworks...but the biggest awesome sauce was his being with Therese and Matt and Holland and Ricki and Sam. Megs celebrated in San Francisco with Casey...also out on a boat. Poor Spencer worked most of the day then had the brethren back for a big carnivore fest and creative fireworks of his own. Herman was done in by the fireworks so got to stay in the bathroom. I stayed home and protected my arm and was astonished at the neighborhood shows I got to watch from the front lawn.
Grateful to start a new month in Do Terra. My builders are rocking it and expect Becky to reach GOLD, which is a founder position in England.
Real estate is still a buzz and I am grateful. Jonathon and Jessica Law are officially moved out...so happy they are only moving up the street...should get that one closed in the next 2 weeks...pretty sure Walter will keep frequenting the pool :)
A sad sad sad sad sad sad thing happened. I am noting this here since this is my journal as well...but also because I am asking for all your prayers for Fred Lee and most particularly Joy. Fred's meds were messed, still heart broken about Joy remarrying, and then his brain damage condition....he murdered Joy's new husband Thursday night.
For years Joy has been begging for help with him. Now he will get it. She has lived in fear, now realized. Now Fred will be in a place where they will regulate his meds, get him the counseling, and attend to his disabilities. The price paid is too huge. I take it upon myself to grant Joy SAINTHOOD. Her love and kindness and tending is known to all. Her parents named her well ....who has needed a reminder MORE of WHY we are here??? I do NOT KNOW another person who has endured so much ...AND with so much LOVE. My heart and head hurt for all of it. Calling for prayers, and more prayers, that the healing will be thick and strong and comforting...and that when few weeks have passed we will STILL keep them all in our love sights and deeds.
As you will see, Fred has never looked so rough.
LINDON, Utah County — Police arrested Fred Lee, 59, Thursday night for allegedly shooting his ex-wife's new husband, according to Lindon City Chief of Police Cody Cullimore.
Lee's granddaughter who police said was 5 or 6 years old, was a witness to the homicide.
"Right now we have got two victim advocates who have been working with the child as well as one of our detectives who is a certified child interviewer to try and lessen the trauma as much as possible," Cullimore said. "She's been a witness to a horrific scene tonight and we'll do everything we can try to alleviate as much of that as possible."
Police said that Lee went door to door shooting his way into two other homes in the "triplex condominium" looking for his ex-wife, Joy Sidwell.
Jail documents said Lee admitted to police that he went looking for his ex- wife "to kill her."
One of the two homes Lee entered had residents inside but no one was injured, police said. Joy Sidwell was in Saratoga Springs at the time.
"Fred Lee is an individual I've known for most of my life actually. I grew up right here, near Fred Lee. He has been an individual that we've dealt with on domestic violence issues for quite a period of time," Cullimore said.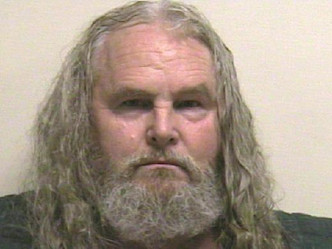 Police arrested Fred Lee, 59, Thursday night, July 3, 2014, for allegedly shooting his ex- wife's new husband, according to Lindon City Chief of Police Cody Cullimore. The 42-year-old victim was found dead in his home. (Photo: KSL TV)
Police searched Lee's home Thursday and found nine guns and several swords.
According to Cullimore, Lee and Joy Sidwell developed the triplex condominium together, but Lee lost rights to the properties when the couple divorced.
Police believe that Lee was also upset over a domestic dispute involving visitation rights with his granddaughter.
Joy Sidwell said the legal system failed her.
"(Lee) had assault rifles. He's been prosecuted with weapons. He had a rifle with a hundred rounds of bullets taped to it, and a sawed off shotgun," Joy Sidwell said. "He got them confiscated. The lawyer didn't do his job. They gave all these weapons back to him."
Court documents show Joy Sidwell filed for a protective order in 2005 and a stalking complaint in 2007 against Lee.
I can't end on this. That we know and love them so personally leaves a wave of grief and fear about life. I refuse to linger in this misery. This same night new babies were born, victories were had in soccer and personal lives, dreams were dreamed, someone had a first kiss, learned to swim, conquered a fear, completed an important project...JOY WAS HERE. LIGHT WAS HERE. LOVE IS HERE. No matter what your God looks like or feels like...I would think that your God IS LOVE...and it is in moments like these where I trust that the promises of THAT LOVE are real...and transforming....for ALL OF US. What is my part???? How do I/we love to aid in the massive healing needed?
This reminds me of one my favorite poems by Carol Lynn Pearson...
The Vow
How could I hide you
From hate?
I would,
Though my arms break
With the trying.
Life leans in
At
the window
there,
With its bag
Of dark treasures
Trying for your eyes--
So utterly open,
So unaware.
You will see
Men smile over blood,
And you will know
There is hate.
You may see bombs
And butcheries,
And you will know
There is horror.
Against all this
What can I do?
Only vow
That before you
Leave my arms,
You will know
Past ever
doubting
That there is
Love,too.
--Carol Lynn Pearson
PAST EVER DOUBTING MY LOVIES...PAST EVER DOUBTING!!!!!!
Mom
xxxxxxxoooooooooooooooooooxxxxxxxxxxxxxxxxxxxxxxooooooooooooooooooooxxxooooooooooooxx